If you wager online, your first stop should be All Horse Racing!
Bet on the Kentucky Derby
The 2019 Kentucky Derby starts here! Don't wait for the track to open, get the best Kentucky Derby Odds at Churchill Downs Racetrack today! The Road to the Kentucky Derby Prep Races have started so bet now and receive up to 8% cash back daily on your racebook wagers win or lose!
The horse racing schedule is updated daily. We provide online horse betting at its best!
What are you waiting for? Join All Horse Racing today. Bet on the Kentucky Derby and follow the entire Road to the Kentucky Derby series of races with us. For more select Bet with Confidence !

Horse Racing News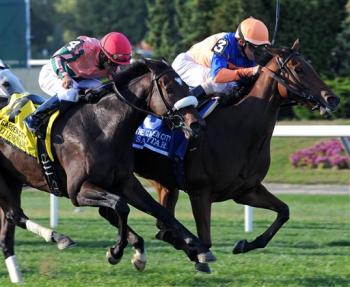 Graded Stakes Races
Kentucky Derby Odds To Win !
146th Kentucky Derby on Saturday, May 4, 2019
Game Winner
Improbable
Maximus Mischief
Knicks Go
Signalman

7/1
10/1
15/1
20/1
20/1

Vekoma
Network Effect
Coliseum
Call Paul
Garter And Tie

25/1
30/1
30/1
35/1
40/1

Kentucky Derby Betting
at All Horse Racing can be done online or from your mobile device safe and secure. Our online racebook offers 10% cash back at all racetracks on every wager win or lose!

Top Horse Racing Leaders
1. Jose L. Ortiz
Starts
1236
1sts
234
2nds
199
3rds
185
Starts
$23,368,027
1. Gun Runner
Starts
1
1sts
1
2nds
0
3rds
0
Starts
$7,000,000
1.Steven M. Asmussen
Starts
1,460
1sts
294
2nds
267
3rds
220
Starts
$22,171,005