Bet on Breeders' Cup at All Horse Racing
Where: Churchill Downs - Louisville, Kentucky
When: The Breeders' Cup takes place on November 2nd and 3rd, 2018
Watch: Live coverage on NBC November 2nd starting at 12pm ET and November 3rd on NBC and NBC Sports starting at 12pm ET

The primary goal of Breeders' Cup Limited is to build positive public awareness of Thoroughbred racing and to expand opportunities for enhancement of the Thoroughbred industry. These objectives are first accomplished through the Breeders' Cup Championship, a year-end international showcase of the sport's greatest stars.
Additionally, the Breeders' Cup World Championship of Horse Racing supports these goals through the funding of a year-round series of stakes races, consumer marketing programs and nationally televised races.
It's the All Star Game of Thoroughbred racing - only better. Fourteen times better. The Breeders' Cup World Championship of Horse Racing is a multi-million dollar extravaganza that brings together the world's best horses to compete in fourteen sensational races in two days.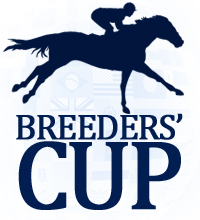 Breeders' Cup Friday Schedule
The first Friday of November marks the opening of the Breeders' Cup World Championships of Horse Racing at Churchill Downs in Louisville, Kentucky. A total of six races take place with the pinnacle race being the Breeders' Cup Distaff. Returning to it's original name after being called the Ladies' Classic, the Distaff offers a purse of $2 million in prize money and features the best Fillies and Mares in the world.
Breeders' Cup Juvenile Turf - 3:30pm (EDT) on NBC
Breeders' Cup Dirt Mile - 4:10pm (EDT) on NBC
Breeders' Cup Juvenile Fillies Turf - 4:50pm (ET) on NBC
Breeders' Cup Distaff - 5:35pm (ET) on NBC
Breeders' Cup 2018 Resources & Links:
Breeders' Cup.com - Official Site
Breeders' Cup Challenge Schedule
Bet on Breeders Cup
Breeders Cup Odds

Breeders Cup Races 2018
Saturday, November 3rd, 2018

| Race | Purse | Distance | Grade | Age |
| --- | --- | --- | --- | --- |
| Filly & Mare Turf | $2,000,000 | 1 1/14 Miles | 1 | 3+ Year Olds |
| Filly & Mare Sprint | $1,000,000 | 7 Furlongs | 1 | 3+ Year Olds |
| Turf Sprint | $1,000,000 | 6.5 Furlongs | 1 | 3+ Year Olds |
| Turf | $4,000,000 | 1 1/2 Miles | 1 | 3+ Year Olds |
| Sprint | $1,500,000 | 6 Furlongs | 1 | 3+ Year Olds |
| Dirt Mile | $1,000,000 | 1 Mile | 1 | 3+ Year Olds |
| Mile | $2,000,000 | 1 Mile | 1 | 3+ Year Olds |
| Distaff | $2,000,000 | 1 1/8 Miles | 1 | 3+ Year Olds |
| Classic | $6,000,000 | 1 1/4 miles | 1 | 3+ Year Olds |
Friday, November 2nd, 2018

| Race | Purse | Distance | Grade | Age |
| --- | --- | --- | --- | --- |
| Juvenile Turf | $1,000,000 | 1 Mile | 1 | 2 Year Olds |
| Juvenile Fillies Turf | $1,000,000 | 1 Mile | 1 | 2 Year Olds |
| Juvenile Fillies | $2,000,000 | 1 1/16 Miles | 1 | 2 Year Olds |
| Juvenile Turf Sprint | $1,000,000 | 5.5 Furlongs | TBD | 2 Year Olds |
| Juvenile | $2,000,000 | 1 1/16 Miles | 1 | 2 Year Olds |