Bet on Haskell Invitational Handicap
Haskell Stakes
Stakes: Grade I for 3-year-old thoroughbreds and fillies
Distance: 1 1/8 miles
Track: Dirt
Purse: $1,000,000

The Haskell Invitational Handicap is named for the first president and chairman of the Monmouth Park Jockey Club who served two decades until his death in 1966. It is a major race for three year olds in between the Triple Crown series and the Breeders' Cup, it currently offers a purse of $1,000,000 USD
The track on the Jersey Shore has had more ups and downs than the stock market since opening on July 4, 1870. By 1890, it was completely rebuilt. But the following year, Monmouth's meeting was moved to Jerome Park in New York because of repressive legislation against gambling. Then the track was shuttered for more than half a century.
It wasn't until 1980 that the present-day Haskell Invitational Handicap became a fixture for three-year-olds and Monmouth Park officially dates the race back to 1968.
Amory L. Haskell, vice president in charge of General Motors' export division after serving in the Navy during World War I, led a successful fight in 1939 to legalize pari-mutuel wagering in New Jersey. Although World War II delayed construction of a new facility, it opened in 1946.
In 1968, Monmouth directors honored his memory with the Haskell Handicap for older horses. In 1981, the race was made an invitation-only stakes for 3-year-olds at 1 1/8 miles with a purse of $200,000.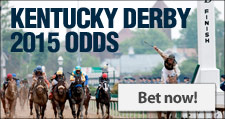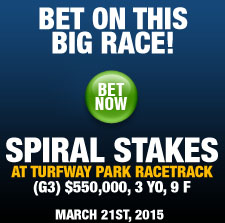 Graded Stakes Races
Aqueduct: Jimmy Winkfield S., $100,000, 3yo, 6f
Gulfstream Park: Herecomesthebride S. (G3), $150,000, 3yo f, ...
Gulfstream Park: Palm Beach S. (G3), $150,000, 3yo, 8.5f
Gulfstream Park: Swale S. (G2), $200,000, 3yo, 7f
Oaklawn Park: Downthedustyroad Breeders' S., $75,000, 3&up...
Oaklawn Park: Nodouble Breeders' S., $75,000, 3&up c&g, 6f
Sam Houston: Maxxam Gold Cup, $100,000, 4&up, 9f
Santa Anita Park: Santa Ysabel S. (G3), $100,000, 3yo f, 8.5f
Turfway Park: John Battaglia Memorial S., $125,000, 3yo, 8...